Vinnie Corrao and Friends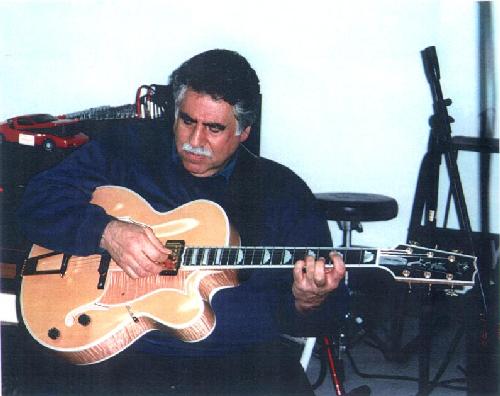 Guitar interpretation of songs from the American songbook and Jazz standards.
Vinnie Corrao has performed at many and varied Jazz venues including The Blue Note and Sweet Basil's in NYC, Count Basie Theater in Red Bank, NJ (opening for Branford Marsalies with a quartet), and Carnegie Hall with Ruby Braff and George Barnes. He was recognized by Gerald Kamer, contributing editor of the Jersey Jazz Magazine, as a guitarist extraordinaire.
Born of musical parents, his father played mandolin and guitar, his mother the piano. At age eleven Vinnie started studying piano, but preferred the guitar and subsequently took lessons from his piano teacher's husband, Joe Mennen. When he was fifteen he started playing professionally, first with Joey Dee and the Starlighters for the Catholic Youth Organization dances at the Armory in Passaic, and weddings and record hops in the Clifton and Lodi, N.J. area and later at the Peppermint Lounge in New York City.
Vinnie studied at the Manhattan School of Music and later studied with Joe Cinderella, who played with Gil Melle and Donald Byrd and accompanied Chris Conners. Vinnie performed at Small's Paradise and Count Basie's club in Harlem, N.Y. and he played with Willis "Gatortail" Jackson at the Club Harlem in Atlantic City, New Jersey. Vinnie also worked and recorded with such outstanding artists as Jack McDuff; played at the Americana Hotel, New York City with the all-star big band put together by Tommy Flanagan to accompany Ella Fitzgerald; then the rhythm section featuring Tommy Flanagan, Frank Dellarosa, and Ed Shawnasy, which accompanied Ella Fitzgerald on the Johnny Carson Show and the Dick Cavett show.
Vinnie performed at Carnagie Hall with the Ruby Braff - George Barnes Quartet with Michael Moore on bass after which they performed at the Nice, France Jazz Festival and once there played with Zoot Sims, Chet Baker, Eddie "Lockjaw" Davis and George Duvivier as part of the Newport Jazz Festival in Europe. Back in the States he also played for a time with Kenny Davern and in a duo with Tal Farlow.
Gerald Kamber once wrote "Vinnie has outstanding technical facility, dazzling finger speed and coordination, fine chordal positions and a stunning combination there of, from a stylist point of view. Vinnie's heavy exposure to thythm and blues and funk -- that go back to the roots of jazz - is obvious most of the time in his single-string runs with flatted thirds and sevenths, in his emphatic swinging rhythm, in his Bluesy chords."
Harmonically, Vinnie has a marvelous sense of altered chords and chord substitutions that gives his playing constant variety and makes it a pleasure to hear. In keeping with his sense of logic and decorum, he always presents the first and last chorus of a tune unembellished with the standard chords. But in succeeding choruses he stretches out with astonishing variations in the original progression, and always swinging. Vinnie, like any other good jazz musician, is also a historian of jazz. One seems to hear subtle allusions to Eddie Lang and the Van Eps boys, to Charlie Christian and Wes Montgomery, to Freddy Green -- in short, to the entire gamut of jazz players and styles. He knows all the great old tunes including some obscure ones that you wouldn't expect from a man as young as he.
---
Booking
I perform with and in duo, trio, quartet, etc. situations and up to big band as well as a single artist with various talented jazz musicians and singers.
732-892-5038
Stringticklr@aol.com

---
Web site by William F. Dudley; content by Vinnie Corrao and Friends
---