Palmer Jenkins Quartet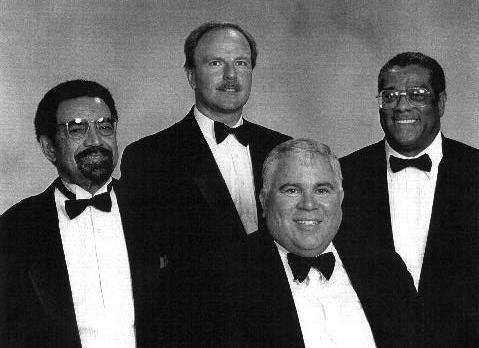 The Palmer Jenkins Quartet plays jazz standards.
---
Personnel
The band consists of Palmer Jenkins on reeds, Howard Helmen on keyboard, Dorian Parreott on drums (and sometimes sax or vocals) and Stephen Chrepta on guitar.
---
Jazz at its best with jazz legend Palmer Jenkins on saxes, flute, and other instruments. Palmer has been a professional musician for many years, playing with some of the great players of our times, and has performed in the Tri-State area for jazz shows, parties, dances and the like. Palmer is known for his solid jazz style and driving improvising. When you see him perform you will never forget his flamboyant style.
On keyboard is Howard Helmen, one of the State's foremost dynamic players. Howard has also played in the Tri-State circle for many years and has backed many fine singers and big band players. His style varies from jazz to blues to rock. He has been called the best keyboard player in the State, and has the fastest left hand in the business. Howard is a great performer with a smooth style.
Playing the drums for the group is Dorian Parreott. Dorian's pushing rhythms and driving style have powered many a performance in the Tri-State area. Dorian's versatile talent is also evident on saxes, and he sings ballads with imitations of the stars. To see him play the drums and sax at the same time is a treat.
Guitarist Stephen Chrepta has been playing in the Tri-State area in styles including ragtime, rock, club dance, and jazz. Although diverse in styles, Stephen enjoys Bebop jazz the most. Steve performs mostly in trios and quartets. Steve is also a solo player. His improvisation is described as smooth and melodic. He also performs with Holiday Express, a volunteer organization and big band providing music, food, gifts, and friendship, to the homeless, elderly, and cancer- and AIDS-afflicted children, during the holiday season from Thanksgiving through Christmas.
---
Booking
Call Dorian Parreott.
732-761-2078
palmerjenkins4@jazzbands.org

---
Web site by William F. Dudley; content by Palmer Jenkins Quartet
---