Eddie Lang/Joe Venuti 4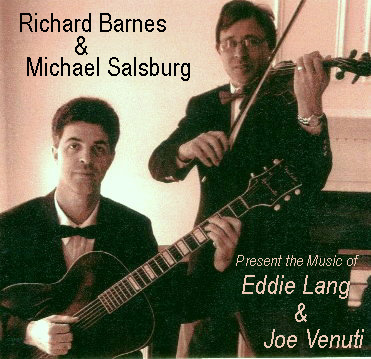 The Guitar/Violin Duo (Richard Barnes and Michael Salsburg) specializes in
Eddie Lang/Joe Venuti music, as does the Four (with Dan Levinson on sax and Tom Roberts on piano).

Also available as an 11pc formal Roaring 20s-30s Swing Dance Jazz band, the Blackbird Society Orchestra.
---
Personnel
Richard Barnes-guitar/banjo Michael Salsburg-violin
Dan Levinson-sax/clarinet,Tom Roberts-piano
---
Richard Barnes - guitar, tenor guitar, banjo, dobro, vocals. Played for 5 years with the Kim Milliner Band, a Brandywine Valley Pa. local "Hot Spooky Jazz Band" before starting the Blackbird Society Orchestra in 1997, an 11pc 'formal' 1920s-30s Jazz/Swing/Pop/Blues dance Orchestra featuring original charts by Duke Ellington,Paul Whiteman,Roger Wolf Kahn, Fletcher Henderson and many more. Barnes' interest in Eddie Lang blossmed by playing with violinist Michael Salsburg in the Milliner band, covering tunes like "Raggin' the Scale" , "Ill Never Be The Same" and "Wild Dog". As the BSO played more and more Whiteman charts his interest in Langs unique style grew more and a more serious study was put into the solo works as well as the recordings with Venuti. While Richard and Michael are mostly heard playing at Borders Books or small coffee houses in Delaware Valley, their finest renditions are heard with their "Hot & Blue Four", a quartet featuring Tom Roberts( Arthur Schutt) and Dan Levinson(Tram). Here can be heard the note for note renditions of many classic Jazz recordings from the 1927-30 rarely heard today. It is a true historical recreation as well as a good time.
Michael Salsburg (violin, vocals). Dr. Michael Salsburg has been playing hot jazz violin for over 30 years. He was inspired in his early 20s by recordings of Venuti/Lang. After that, he was hooked. He played professionally in Hollywood, with gigs that included a appearance in the 'Gable and Lombard' movie, an appearance on the Tonight Show with David Carradine and playing on Billy Joel's Piano Man album. He has now settled into a Day Job but continues working with local musicians and especially Richard Barnes and the BSO. The two started together in the Kim Milliner Band and soon branched out working on Venuti/Lang duos as well as Django/Grapelli songs.
Tom Roberts - Piano. Educated in the public schools of Pittsburgh and at Duquesne University, he played with the premier bands of the city and held the position of house pianist at the famous Duquesne Club. In 1990, he toured with Leon Redbone, a tour that included an appearance on The Tonight Show with Johnny Carson, which subsequently led to his moving to New Orleans. During his years in New Orleans, he quickly established himself as one of the most in-demand pianists of that most musical of cities. He worked steadily with such great bands as Jacques Gauthes' Creole Rice Jazz Band, Eddie Bayard's Steamboat Stompers on the steamboat "Natchez", Barry Wratten's Pelican Jazz Band, The Original Camelia Jazz Band, The Crescent City Rhythm Kings, Tim Laughlin's Jazz Band, and most importantly, The Silver Leaf Jazz Band.
Dan Levinson - Clarinet, C Melody Sax. The cover of the August 1998 issue of "The Mississippi Rag" refers to Dan Levinson as the "in-demand reedman." Indeed, during an active career that began in the 1980's, Dan has enjoyed working with such jazz luminaries as Dick Hyman, Mel Torme and Wynton Marsalis. A specialist in early jazz styles of the 20's and 30's, he often performs alongside many of the top names associated with that musical genre, including Dan Barrett, Randy Sandke, Vince Giordano, David Ostwald, Mark Shane, Howard Alden, Terry Waldo, Ian Whitcomb, and Cynthia Sayer.
---
Booking
through Richard Barnes, please email for immediate response
BlckbrdSocOrch@Comcast.net

---
Web site by William F. Dudley; content by Eddie Lang/Joe Venuti 4
---